Have you experienced a workplace injury in Dallas , Texas? If so, call the Loredo Hand Care Institute immediately. We can assist you in learning your treatment options.
Dr. Pedro Loredo repairing a workplace injury of the hand with surgical intervention. The goal is to return a patient back to work as soon as possible.
What are Workplace Injuries?
Even the most careful people are at risk for a workplace injury to the hands, fingers, wrists, or elbows. Common types of workplace injuries include:
Nerve injury (Carpal Tunnel, Cubital Tunnel, etc.)
Fractures
Tendonitis
Sprains or strains
Lacerations (cuts)
Crush injuries
Burns
Workplace injuries most often occur from performing the following activities:
Lifting
Grasping
Repetitive work/assembly work
Vibrations from equipment or use of power tools
Typing or writing
Flexing or forced rotation of the upper extremity
Extensive strain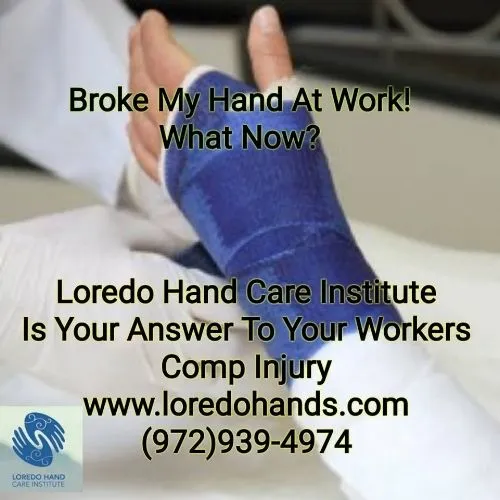 Hurt your finger, wrist, hand, forearm, and elbow at work? Having finger and hand pain. Dr. Pedro Loredo Fellowship Trained and Board Certified Hand Surgeon Can Help. www.loredohands.com (972) 939-4974
What Are the Symptoms of Workplace Injuries?
Symptoms of workplace injuries vary depending on the nature of the injury, but can include the following:
Aches and pains (can be easily confused with normal aches and pains associated with daily work activities)
Numbness or a tingling sensation
Swelling
Muscle weakness or loss of mobility
Dr. Loredo's Approach to Treating Workplace Injuries
Non-Surgical Treatment Options
Depending on the severity of the injury, Dr. Loredo may attempt to treat non-surgically before recommending surgery. Non-surgical treatments include:
Anti-inflammatory medications (NSAIDs)
Steroid injections
Splinting
Physical therapy
Pain creams
Surgical Treatment Options
In the event that non-surgical treatment is ineffective, Dr. Loredo will use the most advanced and minimally-invasive procedures for treatment.
Dr. Loredo uses the most advanced, minimally-invasive techniques available. Most patients enjoy instantaneous relief from pain with little to no post-operative downtime.
Injured your finger, wrist, hand, forearm, or elbow at work? Having hand pain. Dr. Pedro Loredo Fellowship Trained and Board Certified Hand Surgeon Can Help. www.loredohands.com (972) 939-4974
Get Back to Work Sooner
Hand injuries are among the leading causes for emergency room visits and missed days of work, costing employers and employees millions of dollars in workers' compensation costs and lost productivity. Dr. Loredo will rapidly evaluate, diagnose and treat finger, hand, wrist, or elbow work-related injuries while ensuring that the patient is receiving the best possible treatment for their specific need.
---
Frequently Asked Questions
What are the most common types of Workplace Injuries involving the fingers, hands, wrists, or elbows?
The most typical workplace injuries that Dr. Loredo treats include Carpal Tunnel Syndrome , Trigger Finger , De Quervains Tendonitis , Cubital Tunnel Syndrome , Thumb Basilar Arthritis , Tendonitis , Tennis or Golfers Elbow , and TFCC Tears.
At what point should I call a doctor if I have sustained a workplace injury?
Do not delay in seeking medical attention for your workplace injury. The longer you wait, the higher the chances are that the condition will continue to deteriorate and become devastating, potentially resulting in infection or significant loss of function.
What can I do to prevent workplace injuries?
Hand injuries at work are highly preventable. Make sure that you are trained on all aspects of personal safety in the workplace and risk assessment as well as the use of personal protective equipment, safety guards, mechanisms on machinery, and safety barriers.
Contact the Loredo Hand Care Institute
If you or an employee have sustained a workplace injury and would like more information or to learn more about our practice in the Dallas area, please contact us today to schedule an appointment and get your free insurance check.