Suffering from bent or locked fingers? If so, you might be suffering from Trigger Finger. Our Dallas Forth Worth Trigger Finger Treatments might be the solution.
Expert Hand Specialist , Dr. Pedro Loredo, is a hand specialist serving patients in the Dallas/Ft. Worth, TX area. Call now to learn more about our Trigger Finger Treatment options in Dallas, Texas.
What is Trigger Finger?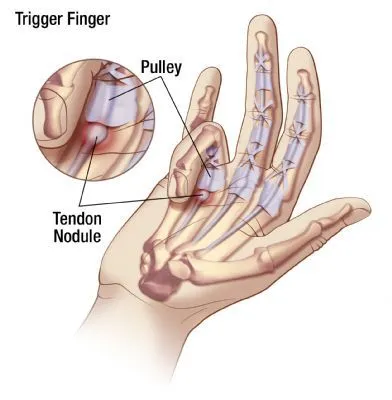 Trigger Finger, or Tenosynovitis, is a condition in which the finger becomes stuck in a bent or locked position. Trigger Finger can occur in any finger but most commonly affects the ring finger and thumb.
The tendons which connect the hand to the fingers and control finger motion become inflamed and are not able to move smoothly within the tendon sheath which houses them. This occurs near the first tendon sheath at the base of the finger called the "A-1 Pulley" and can eventually lead to the formation of nodules and scar tissue.
When the finger is bent, it can easily become stuck in that position due to the tightness in this area. The finger will snap or pop when straightened (like the trigger of a gun), hence the name trigger finger.
DR. LOREDO DISCUSSES TRIGGER FINGER SYNDROME AND OUR TREATMENTS
What Are the Symptoms of Trigger Finger?
Symptoms of Trigger Finger include the following:
Locking, catching, and/or popping when moving finger
Finger and/or joint stiffness
Finger and/or joint pain and/or swelling
Finger and/or joint weakness
Formation of a nodule in the palm which is sensitive to the touch
Palm discomfort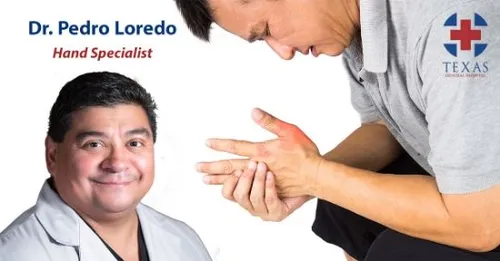 Dallas Trigger Finger Treatment Doctor, Dr. Pedro Loredo
Dr. Loredo's Approach to Treating Trigger Finger
Non-Surgical Treatment Options
Depending on the severity of the condition, Dr. Loredo may attempt to treat non-surgically before recommending surgery. Non-surgical treatments include:
Anti-inflammatory medications (NSAIDs), either taken orally or injected, to relieve inflammation and pain
Steroid injections into the tendons to reduce swelling and pain
The use of splints at night to support the affected finger(s)
Resting and icing the affected area(s)
Physical therapy & stretching exercises
Surgical Treatment Options
In the event that non-surgical treatment is ineffective, Dr. Loredo will opt for either the Open Trigger Finger Release procedure or the minimally-invasive Endoscopic Trigger Finger Release. The Open Trigger Finger Release procedure involves creating a small incision to access and release the tendon and a few stitches. The Endoscopic Trigger Finger Release is a minimally-invasive endoscopic procedure requiring no stitches.
What Can I Expect After Surgery?
The recovery period will vary depending upon the treatment selected. For the Endoscopic Trigger Finger Release procedure, the patient will wear a soft dressing for one week after which everything is removed and full use of the finger(s) is restored.
Frequently Asked Questions
What causes Trigger Finger?
The causes of Trigger Finger are often difficult to pinpoint, but there are factors that can put certain people at greater risk of developing it, such as:
Certain medical conditions such as diabetes or Rheumatoid Arthritis
People who regularly perform repetitive activity or forceful gripping
Women are more commonly affected than men
People between the ages of 40 and 60
Can Trigger Finger affect more than one finger at once?
Yes, Trigger Finger can affect any of the fingers, although it most commonly occurs in the ring finger and thumb, and can occur in multiple fingers at a time or even both hands at once.
How is Trigger Finger diagnosed?
Only a doctor can definitively diagnose Trigger Finger. This is somewhat easily accomplished through a basic set of questions and an examination of the affected finger(s). Additional testing and/or X-rays are not usually required.
Featured Story - Mrs. Ida Trigger Finger Release and Carpal Tunnel Patient
Dr. Loredo had the pleasure of treating Mrs. Ida, a school teacher who was suffering from both Trigger Finger and Carpal Tunnel Syndrome. One week out from her surgeries, Mrs. Ida was feeling great and was ready to get back to teaching!
Contact the Loredo Hand Care Institute
If you are experiencing any of the symptoms associated with Trigger Finger or would like to learn more about our practice in the Dallas area, please contact us today.