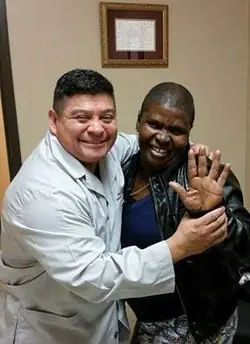 Patient Name: Janet
Procedures Performed: Carpal Tunnel Release, Open Trigger Finger Release & Scar Excision
Janet, pictured with Dr. Loredo, is showing off her pain-free hand. A victim of Hurricane Katrina, she lost her health coverage and was not able to have the treatment for her hands which she desperately needed. She came to see Dr. Loredo and underwent minimally-invasive hand surgery. Janet says she is doing great and is able to hold her grandbabies!
---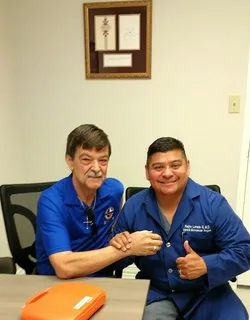 Patient Name : Arthur
Procedure Performed: Post hand arthritis repair
Arthur is the local handyman for his neighborhood here in Hurst Texas. Due to the pain from arthritis, he has not been able to help his neighbors.
"Dr. Loredo, I came into your clinic crying due to my severe hand pain.  Now, I come in crying with tears of joy because my hand pain is gone. Thank you Dr. Loredo!" - Arthur